The Closet I Always Wanted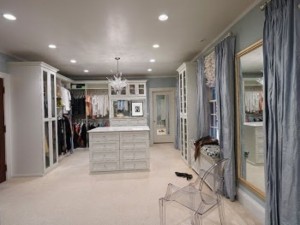 I have designed a lot of gorgeous closets over the years. There have been some amazing projects installed in everything from modest homes to large mansions. Of course, all of them were perfect for what each client wanted. When I think about what I would do in my dream closet, I would take different aspects and put them together in the most incredible project ever conceived!
I would have an entire room dedicated to being my closet and dressing room. My closet would be the showcase of my home. It would be my personal oasis away from the world. There would be a couch where I could not only put on my shoes but I could cuddle under a soft, comfortable throw and read. Of course there will be a vanity so I could get ready in the mornings doing my hair and makeup.
There are some definite features that would be part of my design. I would add a full-length, three-way mirror to be able to see my outfits before departing each day. My shoes would be on display along one wall so I could see them easily and choose the best pair for each occasion. Purses would be behind glass doors so I could pick the perfect handbag to accent what I am wearing. All of my clothes would be organized by color and type so getting ready would be easy. Of course, there would be so much hanging room that clothes would not get wrinkled.
There would be ambiance to the spacious room. Music would be playing through the sound system. The ceiling would be 10 feet tall with the closet at 8 feet so I could have up-lighting. I would pick a deep, rich color for the closet and have carpeting that felt luxurious to the touch. Different framed pictures, small sculptures and other pieces of art would be strategically placed on some open shelves to add color and beauty as focal points. A window would add natural light.
Just thinking about my dream closet makes me happy. My imagination has created something so incredible that once I get it, I may never want to leave. It is my idea of a personal retreat with a lot of my favorite things. It sounds like absolute heaven.
By Kathryn LaBarbera