A Client's Custom Office and Closet Organizer Story
Edward and Dot were in desperate need of renovations to their home office and closet organizer. Edward works in financial services while Dot maintains their home along with a full plate of volunteer work. They've lived in the same residence for many years, and as is the case with many homes, the rooms were extremely outdated.
Edward was working from a home office that was as inefficient as it was an eye sore. Featuring bulky wood cabinets that hosted a tangle of wires and lacked an organizational scheme, the office did not cater to Edward's needs. Luckily Joanna Forbes, a senior designer at Closet Factory Los Angeles, has been helping clients get organized for years. Using her expertise, she zeroed in on the downfalls of the room; namely the dated and dark interior. The result of the redesign features a custom office with open cabinetry to create the illusion of a larger space. Joanna also replaced the dated wood with white melamine and used subtle moldings, which opened up the room and created a more invigorating space.
As for Dot's custom office and craft room, there were multiple problems with the original design. Again, the space was dark and used its square footage inefficiently. Dot juggles various volunteer projects along with general home upkeep while dabbling in craft projects on the side. Therefore, her space needed to serve multiple purposes; from creative storage to household organization. Like many home offices, originally Dot's office was a spare room, featuring a poorly placed reach-in closet and numerous pieces of bulky furniture. Joanna focused on making the most of the space by getting rid of the closet and using every nook and cranny for storage or furniture. The built in desk and daybed create a much more welcoming custom office atmosphere – expertly maneuvering the corner, which would otherwise result in wasted space.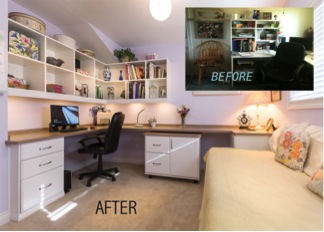 And finally, they had a messy walk-in closet organizer that desperately needed some sprucing. And by sprucing, we mean major renovations. In master closet organizers, it's imperative that organization be at the forefront of the design. Bearing this in mind, Joanna was faced with quite a challenge. Right off the bat she factored in the removal of several soffits and the relocation of a space heater to stretch their space. She added drawers to what had previously consisted solely of hanging sections, and shoe racks to keep their footwear off the floor.