The Brown Color Trend For Interior Design & Decor 2012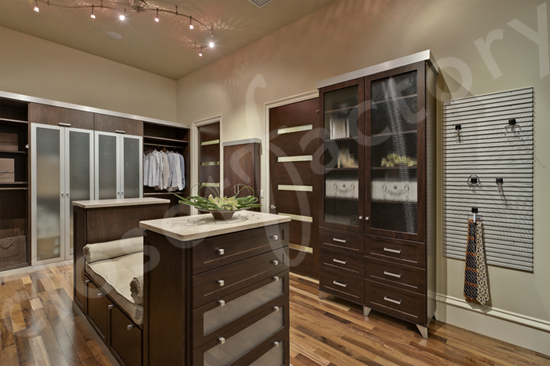 Master Closet From The New American Home 2011 in Orlando, Florida.
The current interior design and home decor color trend is all about using browns in any part of the home. You can find this color story in hardwood flooring, upholstery patterns and accessories featured in magazines like Elle Décor, Veranda, and Interior Design. Shades of brown are known to evoke a feeling of comfort, stability, and a sense of orderliness which is probably why it is currently so popular.
Earlier this year Closet Factory designed, manufactured, and installed some cutting edge custom closets for The New American Home 2011. These built-in deluxe wardrobe organizer systems were designed with the latest technology and 2011-12 forecasted colors for home interiors.
This year's The New American Home was not just a showcase house, but actually a renovated home owned by a couple in the Orlando area. These walk-in closet designs were custom built around the personal tastes and needs of the clients to accommodate their wardrobe, business lifestyle and personal aesthetic. All of the closets have modern lines with color schemes in shades of mocha, espresso and coco brown.
When incorporating shades of brown into your home's interior, think of it first as an anchor color.  Chocolate brown is a great choice for furniture, flooring and crown molding. Keep in mind that too much brown will make a room seem smaller in size or too dark. To avoid saturating the room with too much brown, use bright colors in your accessories to open up the space.
Take a look at these images:
Don't think of brown as drab and boring. Think of brown as the new black! It can be modern, contemporary trendy or classic depending on your personal style. Brown also gives a room an inviting and warm feeling. Do you agree? Tell us your thoughts and comment bellow!
Check Out These Related Blog Posts:
Image Sources:
Content Influences: