A Beautiful Murphy Bed – Louisville, KY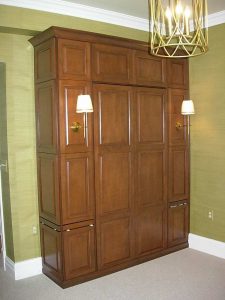 I wanted to share with you a segment of a letter we received from Jerry Ostertag, owner of Closet Factory Louisville. Closet Factory is featured in numerous design shows nationwide and this particular show features a unique and beautiful Murphy Bed! What makes it so unique is the beautiful headboard.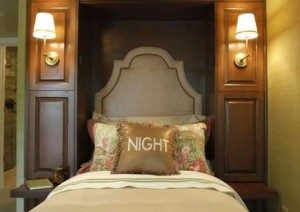 This September we participated in the Bellarmine University Designer Show House, which is a very successful annual fundraiser in Louisville.  The event was in an 80-year old building converted to condominiums in the Cherokee Triangle area of old Louisville, and three condos (selling for 500-900k) were used for the event.
We joined up with Joan Waddell, former Chair of the ASID chapter in Louisville, to design a multi-purpose room, a home office/guest suite. It featured a Murphy bed and with two reach-in closets, one was used for guest clothing and one for office supplies and files.
The Louisville Courier-Journal sent a photographer through all three participating condos, and shot most of the primary spaces.  They ran a few in the paper but posted them all on their web site.  We were fortunate in that they were so taken with our concept that the Murphy bed got featured with two shots.