Ask the design expert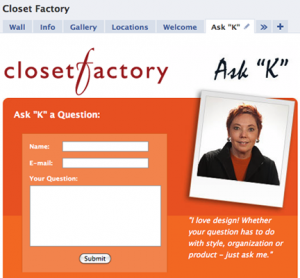 It's no secret that most homeowners find redesigning and organizing their space a never-ending task. Most of us aren't aware of the simple things that can save us hours of frustration, thus freeing us from a hodgepodge organized space.
Instead of spending hours in a department store looking for answers, get inside tips from Closet Factory's Kay Wade, V.P. Design & Head Designer.
On the Closet Factory's Facebook page, we have a section called "Ask K," where you can get your questions answered directly by "K" herself. Everything from how to tips, preferences on accessory usage, questions from a Closet Factory design expert, and more!