The Art of Custom Closet Design
I am the senior designer for Closet Factory of Maine. I am also an artist. How do I blend the two together? Actually, it's been a pretty natural process.
Balance and composition are important in both closet design and art and being visual has helped me with the conceptual aspect of the design process. I'm able to look at a blank or disorganized space and envision an efficient, attractive, well-organized storage solution in its place. Plus, I am able to sketch out a clean design that clients can understand. It help keeps everybody on the same page. Of course, all the math that is involved in closet design initially scared the heck out of me! Generally speaking, when you are an art major, you avoid math like the plague. Thankfully, I've found that in this case, repetition leads to comfort, and I am no longer fearful of all the numbers that go along with the design process.
There are many great perks I've been able to enjoy as an artist and a designer for Closet Factory of Maine. One is the flexible schedule. This makes it easy to participate in different art shows and fairs without missing out on my appointments. Another major bonus is the new, beautiful office/showroom my boss, Walter Munsen, opened in January 2011. The office/showroom is located on Congress Street, right in the heart of Portland's Arts District. This makes it a fantastic location for participating in First Friday Art Walk. For those of you who are not familiar with the concept, on the evening of the first Friday of each month, Portland's galleries, shops, and other businesses have opening receptions for their new art shows. It's a monthly celebration with food, wine, music, art, and it's free to the public.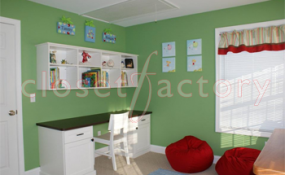 I am fortunate enough to be able to use wall space in the office/showroom to have rotating solo shows each month of my acrylic paintings, oil pastels, and mixed media/collage pieces (please check out my website, www.brushstrokesbymaria.com, to see for yourself). First Friday Art Walk brings in a lot of people, many of whom have never heard of Closet Factory of Maine, so it's a great way to show off what we can do and find potential clients. We've gotten a fair amount of business as a result of the Art Walk. One client, in particular, was lukewarm in his initial interest. He didn't want to stop by during regular hours to see our model units (since we were new to the space, he was convinced there would be nothing to look at), but the idea of coming to a First Friday opening reception appealed to him. Within two weeks, he bought a walk-in closet! I've also sold several of my own pieces during the Art Walk so everybody wins!
It's rewarding to be able to express my creativity in so many different ways at once, and First Friday Art Walk at the Closet Factory of Maine office/showroom allows me to do just that. Some people who come in want to talk strictly about art, some people only want to talk about closets, others want to talk about both. I have no problem shifting from one topic to the other, and I always have plenty of examples of each available to illustrate whatever point I'm trying to make! The installers at the shop, Steve and Gennadiy, have even helped by cutting strips of scrap melamine and fashioning them into temporary frames for me. This gives my paintings a uniform look (even if they are vastly different, the frames tie them together) and it's another way to showcase some of the different finishes Closet Factory has to offer.
It isn't always easy for artists to find "straight" jobs that suit their needs and help to scratch the creative itch, but I'm happy to say that designing closets for Closet Factory of Maine has been a good fit for me. Not only is it fun to see something go from a concept to a two-dimensional sketch to a three-dimensional reality on a regular basis, but it's nice to have the support of those around me to pursue my artistic endeavors as well.
By Maria Castellano Usery Closet Factory Maine
Visit Closet Factory's "Expressions" section for the choice of styles, colors, products, layers, and organizational functionality to suit your custom closet needs. Browse our project gallery for some inspiring ideas.