Applying Zen Principles to Wardrobe Organization
What does it mean to be Zen?
According to Derek Lin, a Taoist master and expert in Eastern philosophy, Zen cannot be summed up with words.
"Zen is the peace that comes from being one with an entity other than yourself," says Lin. "It means being aware of your oneness with the world and everything in it; living in the present and experiencing reality fully."
In part 4 of my series with actress Daniella Monet (Nickelodeon's "Victorious," "Baby Daddy," "The Fairly OddParents Movie"), she discusses what it was like working with a professional organizer and how together they were able to streamline her new closet with a little Zen thinking.
Going for It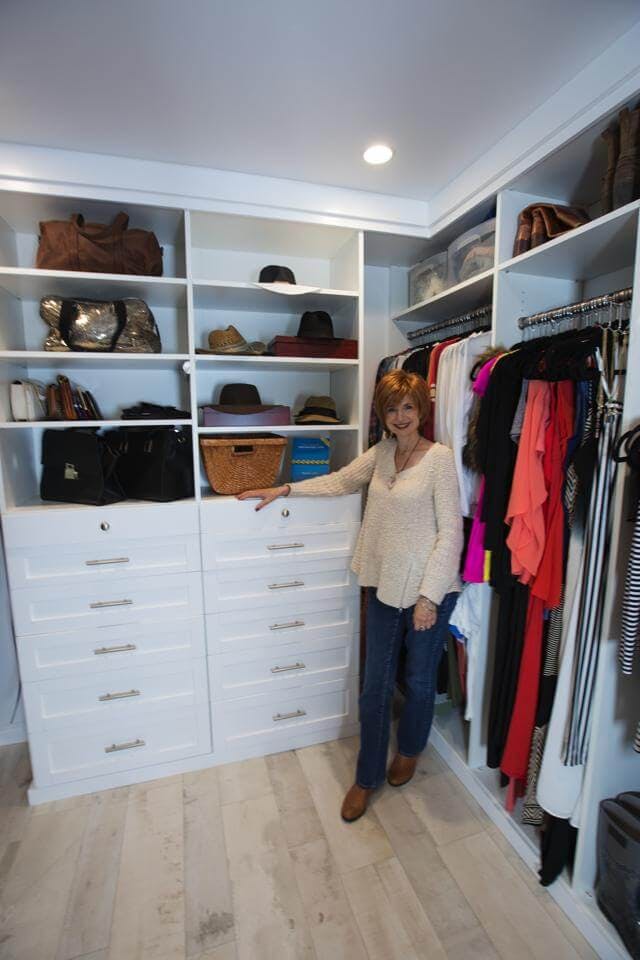 "The thing I'm super excited about is having Regina Leeds come over," Daniella says, hardly able to contain herself as we begin our interview. "She is a Zen organizer. She's the Zen organizer, and she creates art from a closet. She goes, 'Well this is really just going to be an art piece,' and I'm like, 'Girlfriend, I'm with you. Go for it.'"
Regina Leeds began life not as the Zen organizer, but as a professional actress. However, her passion for spiritual studies, psychology, and human behavior eventually drew her down a different path. She's now a professional organizer and the author of a New York Times best selling book, "One Year to an Organized Life."
"I marvel at the way my interests dovetailed in a way that made me a better organizer," Leeds says. "Guilt, fear, and shame have no place in personal growth."
Zen Organization
After years of helping people organize their lives, Leeds developed a new system she calls "Zen Organization."
"I create an environment that nurtures and sustains you through all the challenge of life," explains Leeds. "If I don't honor your Soul the systems will vanish in a matter of weeks and the chaos will return. Who wants that outcome?"
Less is More
Daniella and Leeds got to work shortly after lunch, first purging any clothes she didn't wear anymore.
"I like a little spring-cleaning and so does she," says Daniella. "We're making sure that everything is functional and looks like it should and is going to be beautiful."
Besides your annual spring cleaning, is there any way to tell when you should consider cleaning out your closet? I was curious, so I asked Leeds.
"If you suddenly pull out a pair of pants and they have a line or clip marks on them, that's a sign to you that maybe you should edit your closet, because you're not wearing everything you have," she says.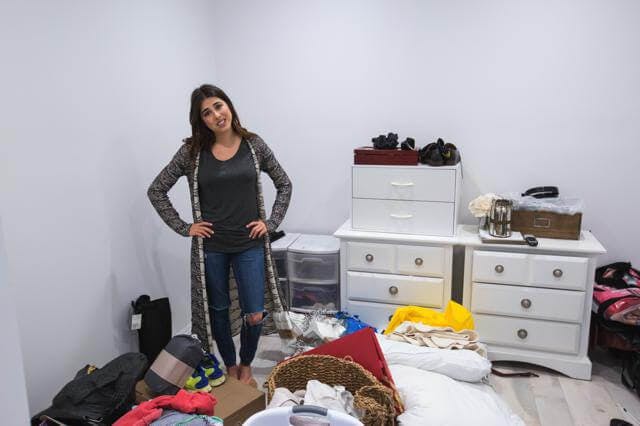 Inside Daniella's Closet
"These slide out shelves are my new favorite thing in any closet," admits Leeds. "I had a talk with Daniella, and I know she loves her beautiful heels, but most of the time, she's in sports shoes. So I put them right where it's easy for her to reach."
Originally, Daniella had purchased wooden hangers for her closet, but after seeing the size of her wardrobe, Leeds made another suggestion.
"I used these wonderful narrow black hangers," Leed says. "They're sticky so that nothing falls off, but they don't affect the fabric. And because Daniella had so many clothes these were great because they didn't take up a lot of space. Now, Andrew has a lot less clothes, so we're using wooden hangers [for his side]."
No Space Left Behind
"You want to use the space in your closet for you clothes," says Leeds. "It's ok to have blank space for a while until you decide what you want to put there, but ultimately, you want to make use of everything you have available to you."
Remember, Daniella isn't the only person who's going to be using the new closet. There was live-in boyfriend Andrew's wardrobe and routine to also consider.
"Andrew's taller, so we wanted to make sure to space the rods out a little more so his clothes wouldn't drag on each other," says Closet Factory designer Joanna Forbes, who worked with Daniella to create the space. "That's always a sign of a closet that wasn't custom made for you – when your clothes are touching the rod below."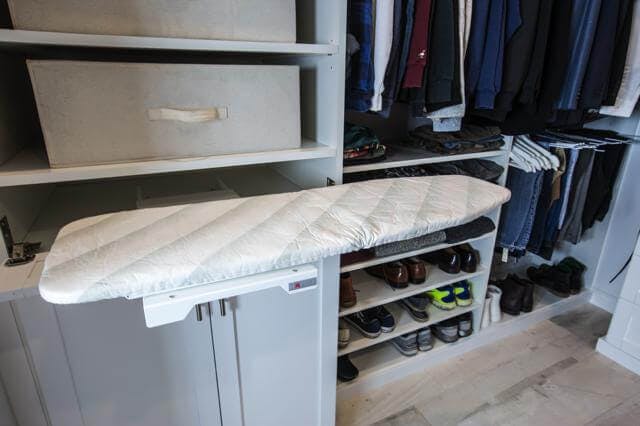 A Flexible Closet
One of the decisions Daniella and Leeds made together was to store her winter gear – hats, gloves and scarves – in repurposed plastic containers up on a high shelf and out of the way.
"When winter comes, I might bring down those ski hats, and then put [Daniella's] straw hats away on top," Leeds explains. "Your closet should always reflect what's going on in your life, and it should be fluid. It should be an expression of your everyday life and what's happening. You don't want to be stuck in life, so you don't want your closet to be stuck either."
In the fifth and final installment of my series with Daniella Monet, she talks about her experience as a first-time homebuyer and what mistakes other Millennials should avoid.
Watch the full Daniella Monet closet makeover video here:
If you missed previous parts of the series, be sure to head over and read:
Part 1: A Closet Makeover Sparked on Twitter (or How I Met Daniella Monet)
Part 2: Daniella Monet's Boutique-Style Closet Guide & Tips