Why Would Anyone Buy a Custom Closet?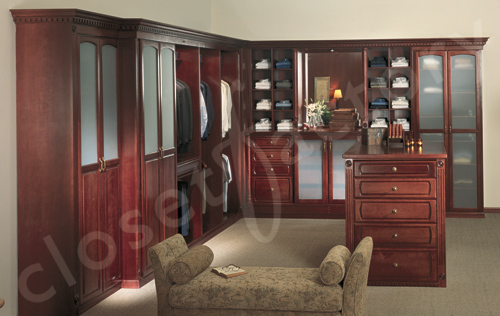 The answer to the question is obvious to the people that have had a custom closet, but may not be obvious to others. There actually are many reasons why people buy custom closets, and the reasons may vary somewhat from person to person. Most people rave about how simple things become; life gets easier because everything has a place.
Pants have a home; even shorts have a space. Long dresses go in the long hang rack, and belts – that's easy – they go on the belt rack!
Jewelry is easier to find in an open double-decker felt jewelry drawer displaying all your jewelry as if it is in a store. Then, of course, your unmentionables, nylons and other items nicely organized – each with its own drawer. And finally your laundry is neatly stored in a tilt-out hamper so you can take off your night clothes and get dressed all in one spot.
A custom closet simplifies your life AND looks good doing it! You may even be able to leave your closet door open to show off your beautiful closet!
The best part of a custom closet is that it's CUSTOM and can be designed to fit into any size and shape. Custom closets aren't reserved just for large walk-in closets. You'll be amazed just how much free space you have in just a simple single hanging closet.
At Closet Factory we want to utilize space properly and efficiently so please don't be surprised if we start taking inventory of all your belongings.
Our Designers will measure exactly how much space you need for hanging, long hanging and medium hanging rods to make sure you can fit all your clothes. We count shoes, belts, ties and folded clothing to make sure we include the correct accessories.
While going through your inventory, your Designer will ask you how you want to use the space and make suggestions to make it the most functional for you. And if you decide five years from now that you want to change things around, it is as simple as a phone call to your Designer or moving a few pieces yourself.
What is the one thing you hate about your closet?
Simplify your life and request a free consultation with a professional closet designer. We have locations nationwide to serve you.