Accessorizing Your Walk-In Closet: Men's Edition
Put off by your mangled mess of belts and those floral socks that keep ending up in your drawer, you've decided the time has come to move on. From a shared closet, that is. You have finally taken the plunge and are on your way to designing your very own walk-in closet, with the perfect union of masculinity, organization, and good design. Once you and your designer have decided on your storage options, maximizing your space with the ideal combination of shelves, drawers, and rods, it is time to move onto the more minute details.
While organization is achieved at the foundation, good design is defined by the details, and the items you choose to adorn your custom closet are crucial. So, stick with me and I'll get you started with some advice on composing the ultimate closet.
1 – Belt Hooks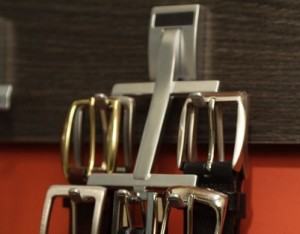 There are a few choices here, so think critically before jumping to any decisions. A belt rack is a necessity in any man's closet, though the right choice depends on your wardrobe. A pull out rack works great for someone with a large clothing collection and less room, as it takes up virtually no space. A belt hook doesn't hold quite as many belts, so it's ideal for men with fewer clothes, while the custom rack is great if you prefer to have your belts in plain view whilst choosing an outfit.
2 – Tie Rack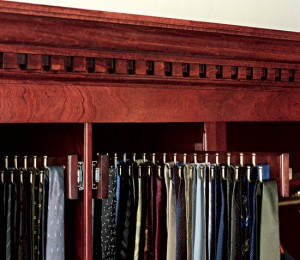 Another must-have for any business-oriented bloke is a place to store your ties. The main decision-making factor rests in whether you care to display them or keep them tucked away. Lucite dividers are a fun way to showcase colorful or intricately patterned ties, though the storage makes for more work than simply hanging. Tie hooks are great for a simple cleanup while maintaining a decorative element, whereas a pullout rack or cabinet is ideal for a minimalist's closet in which you want the woodwork and hardware to shine.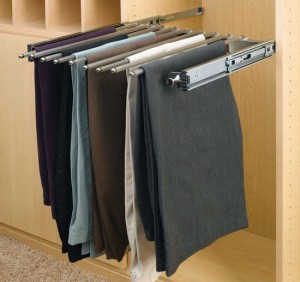 3 – Pant Rack
A pant rack is another great tool that saves you from the hassle of hangers. It slides out, again, so it occupies minimal space and allows for easy access. Simply fold and drape over each hook for perfectly creased trousers. You can opt for wood if you prefer a classic aesthetic, while a chrome rack will complement a modern interior.
4 – Safe
And finally, you can rest easy knowing that your valuables are tucked safely away in your closet, lest another "bling ring" incident happen with you the victim.
Talk to your closet designer about the right accessories for your closet space.