A Laundry Room to Fit Your Space
A laundry room is a non negotiable. Whether you love the smell of fresh detergent, can barely keep up with your family's stain making speed, or detest the disorganization created by tubs of detergents and fabric softeners, the laundry must get done. And since it is unavoidable, whether you do it once a day or once a month, an organized laundry room can drastically improve your quality of life.
You may think customized laundry room ideas are the stuff of dreams, reserved for homes with ample square footage. But, the truth is we can install a custom laundry room in many different spaces, big and small. It may not be a room, but rather a nook, or closet. Though we can guarantee one thing: Closet Factory can make you more organized.
If you have a small space, there are several obstacles we need to work around. Experts at Closet Factory, though, are aware of space-maximizing tricks that you may not be. First of all, you need to decide where you want to install your laundry nook. Hall or corner closets are great options, considering the appliances can then be hidden when not in use. A pantry area near a kitchen can also work, and allows you to use the laundry room cabinets for kitchen storage as well.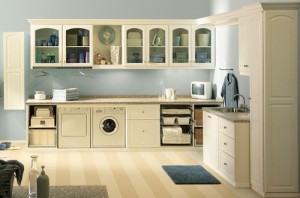 Once you've settled on the perfect space, the cardinal rule for small space laundry rooms is that retractable laundry room accessories are your friends. Often times the space will seem to have only enough room for a washing machine and a dryer, though we deem that insufficient. In order to maintain any organizational system, you need storage and counter space. We can make use of vertical space – building cabinets up to the ceiling – and use a pull out ironing board, on which you can fold and iron.
If you have a whole room or, dare we say, garage in which you want to install your laundry station, then there are countless options for you. We can install a counter for folding, under which pullout hampers can store dirty clothes and dry cleaning. Our designer will collaborate with you to determine your storage needs, and work accordingly. Sinks and pet areas are becoming increasingly trendy in bigger laundry rooms this year, so we can help you plan for those as well.
As you can see, no matter the size, our designers will work with you to create an efficient laundry room that meets your needs.