9 Tips on How to Declutter Your Office Space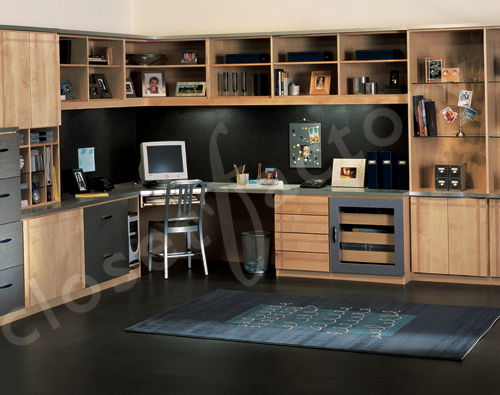 Have you ever seen the television show Hoarders? I am always shocked by the amount of stuff people manage to squeeze into their homes. One of the biggest culprits is the home office whether you're working out of the home or if it's just a space to manage bills; the home office is easily overwhelmed by clutter.
Every now and then I get the bug to  get organized. The first thing I tackle is all the paperwork in our office and start filing it in folders by bill and service provider. I would even take the time to make printed labels. But I would often ditch the filing system and just let the paperwork pile up in a corner. This makes for a very painful tax season and a very cluttered office. Because we can't keep it organized it's the place where everything goes when it doesn't have a dedicated home.
Do you have a cluttered home office?
The experts in our Closet Factory Washington DC & Baltimore location have some great tips on how to declutter your home office.
DON'T create a detailed filing system. Instead create generic folders for bills, insurance, donations, and etc. If you need a receipt for taxes, create a tax folder.
DO have a recycling bin handy when you are sorting through mail. Get rid of junk mail now and keep it off your desk.
DON'T keep magazines. If you have too many magazines lying around, then cut out that important recipe or article you want to reference again and throw the rest away.
DO update the addresses of your contacts, if someone sends you a change of address update it right away.
DO remove unnecessary items from your desk. Think about the items that you use daily and remove the rest.
DO look for any extra wall space that can be used for storage.
DON'T keep old electronics. If you have an old floppy lying around get rid of it. If you have broken equipment that you have no intention are repairing it needs to be disposed of.
DO reduce that amount of paper you are printing or receiving. Contact your service providers and banks and ask for paperless statements.
DON'T forget if you are having trouble organizing your space, an experienced professional help. Design consultants can build a custom home office space that is built around you.
Do you have a cluttered home office? What things cause the most clutter in your space?
Request a free consultation with a professional home office designer. We have locations nationwide to serve you.