7 Fun Ways to Streamline Your Closet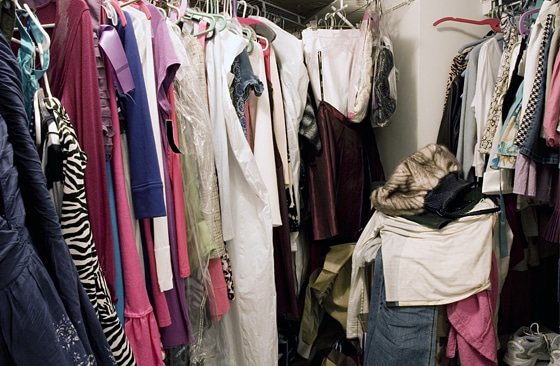 Has it been awhile since you've evaluated what's in your closet, with an eye to letting go of some of the things that aren't useful to you anymore?
You may say, "hey there is NOTHING in my closet that is useless to me…I love everything in my closet!" That might be true, but sometimes loving something means letting it go. We feel your pain, really.
So why do we use so little of what we have even though we "love" our stuff? Well when it comes to closets, most of the items that we keep but never wear fall in one of these categories:
don't fit
are in need of repair
are out of style
not as cute or as stylish as we thought they were when we bought them
The closet is a very personal space and many of the items in our wardrobe tell a story about who we are. There is an emotional connection to each piece, so it makes it difficult to say goodbye…unless you turn the parting into a party.
That's why we've come up with a list of 7 fun ideas to make giving away those tattered flannel shirts from your grunge phase just a little bit easier.
Ready, set …
1. Make Some Money
One man's trash is another man's treasure. You can sell gently used items at a consignment store, online or have a themed yard sale.
Themed Yard Sale–A Saturday afternoon yard sale doesn't have to be boring. Give it a theme and make it a party! Create humorous yard sale signs to market your sale.
Online–There are a variety of online auction sites for selling used items. Also consider using social media such as Facebook or Myspace.
Consignment–Put unwanted designer clothing up for consignment at a high-end store.
2. Host a "What Not to Wear" Party
Invite your most trusted but brutally honest friends to be your Stacy and Clinton (hosts of What Not to Wear on TLC). Set up a mirror in your living room, model the outfits in question and let your guests tell you what stays and what goes.
3. Go on Charity Field Trips
Make a personal connection with charitable organizations, so when it comes time to drop off your box of donations you feel connected to the cause.
Spend a day with the director to observe what they do and who they help. Or try volunteering for a day or two.
There are a great number of organizations serving unique purposes and some of your items may be a perfect fit for their needs. Too many shoes? Contact organizations that recycle worn out shoes into playground equipment for underprivileged children. Lots of career clothing? Places like Working Wardrobes provide wardrobe assistance for people who are struggling to enter or re-enter the workforce.
4. Living Room Boutique
You said it yourself…you have some really great items in your closet. Why not set up a living room boutique for a day? Invite over a few friends and family to go shopping, especially the ones constantly borrowing things from your closet. Instead of placing price tags on your items, collect a "cover charge" for entry such as a bottle of wine or a plate of home baked goodies.
5. Project Runway
Now if the people on the hit television show Project Runway can make an entire ball gown out of candy wrappers, we're quite certain you can re-invent some of the items in your closet. Try it yourself or give local design students a box of your old clothes and let them have at it. Buy the re-fashioned items you like and allow them to sell the others or use as school projects.
6. Give Yourself Time
Rome wasn't built in a day, nor was that massive collection of stuff in your closet. It may take more than a single afternoon or a weekend to sort through it all. Create a fun calendar that'll help you spread out the cleaning process over a few weeks or even months:
Doesn't Fit Day – A day to try on everything and set aside the things that no longer fit.
Raggedy Ann Day – Find items that are heavily damaged and cut up to make cleaning rags.
It Used to Be This Color Day – Find and toss the stained and severely faded items.
What Was I Thinking Day – Pull out items you have never or scarcely worn and decide if they're worth keeping.
7. Craft Creation
Consider moving a few items from your closet to your craft room. There are tons of creative uses for scarves, such as using the material for homemade throw pillows, window treatment accents and gift satchels. Jewelry, belts and old pieces of clothing can be repurposed in making quilts, tree ornaments and scrapbooks.
Call (800) 838-7995 or fill out the form to request a free design consultation today!