5 Handy Closet Accessories Currently Flying Under The Radar
One of the best parts about creating a custom system of organization is the robust selection of handy closet accessories available to integrate into your beautiful design. With so many choices available, the sky is the limit as to what a walk-in or reach-in closet can look like or provide for your home.
We find that clients are enamored with additions such as LED rods, which shine a subtly pleasing warm light on your clothes, and pull-out jewelry drawers, which nestle and cradle each piece of jewelry in individual compartments made of high quality velvet lining. However, one unfortunate side effect of having many accessories to choose from is simply not knowing about the existence of a couple of them. Today, we're going to take a look at five custom closet accessories that fly under the radar of most of our clients but should definitely be considered for your design!
Jewelry Hooks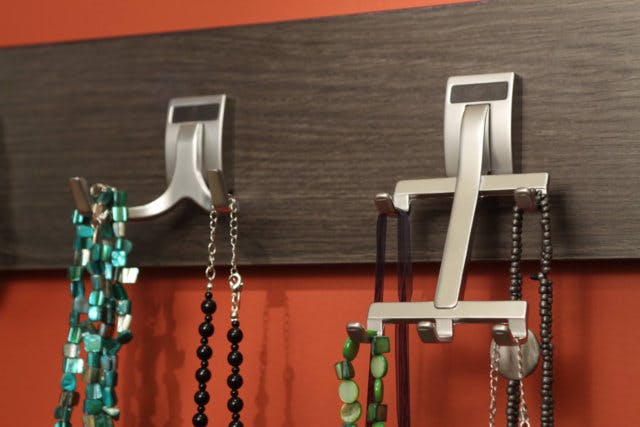 With most people opting to store their precious necklaces and bracelets in the safety of drawers, jewelry hooks tend to go unnoticed. Jewelry hooks are great for showing off your favorite accessories and are perfect for making the pieces you wear often more easily accessible. In addition, these hooks can be adjusted up and down, further opening up storage options.
Drawer-Style Tie Racks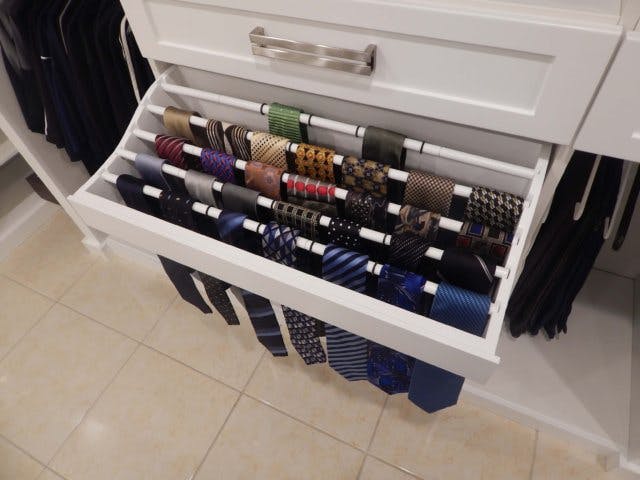 Most men opt for the traditional slide-out tie rack that pulls out from the side when designing their custom closets, as ties are usually only seen as the "cherry on top" for a man's outfit. Tie fans however can finally rejoice, as there is a storage accessory just for them, specifically the drawer-style tie rack. Opening up the drawer allows you to view your entire tie collection at a glance.
Wire Shoe Trays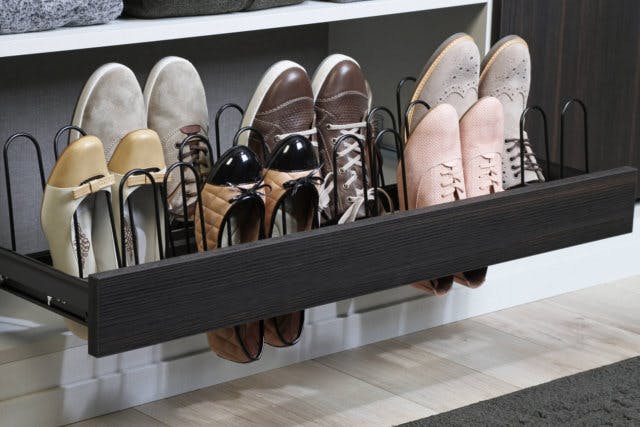 If you want to break away from the norm of storing and displaying your shoes on flat and slanted shelves, consider a pull-out wire shoe tray for your design, which keeps each pair of shoe secured and stays out of sight when you want it to.
Shoe Drawers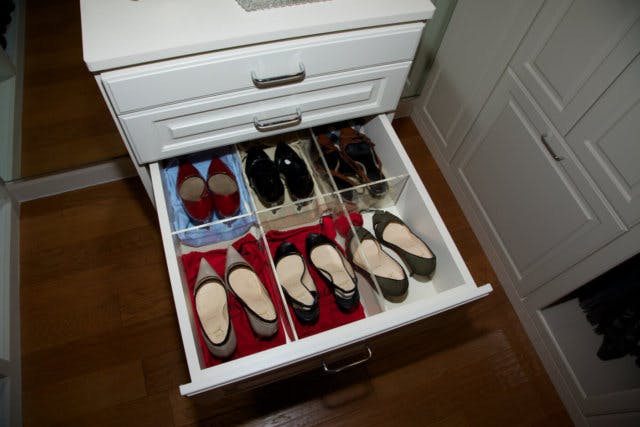 Okay, okay, if you don't want your shoes to be sticking upwards or be visible at all, there are always custom drawers with Lucite dividers, which offer the highest level of protection for your shoes.
Slide-Out Ironing Boards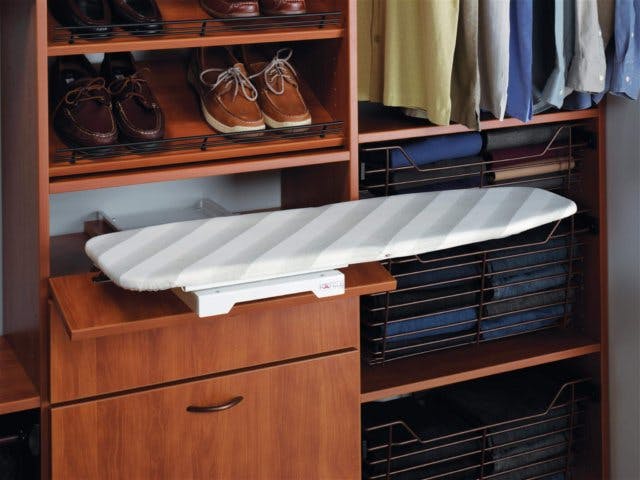 Last but not least, ironing clothes inside of a walk-in closet isn't exactly something that people commonly do, but if you're looking to try something new, why not add a slide-out ironing board to your closet design? Plus, the ironing board twists and turns, providing flexibility for you to work however you wish.