5 Best Ways to Use Your Spare Room
So, you have a spare room in your house and have no idea what to do with it. Maybe your kid finally moved out, maybe you just bought a house a little bigger than you needed. Either way, here at the Closet Factory, we have you covered with five great ideas on how to use that spare room.
1 – If your room is near the exit to the back yard you might want to consider turning your spare room into a mudroom, especially if you have kids. This area is perfect for keeping all of the things that are used outside, but need to be kept close at hand – rain boots, leashes, jackets, rags, and sports equipment that you don't want to keep in the garage. Just install a wall unit with a few shelves, drawers, and maybe some hanging rods, and voila! Your mudroom is ready to go.
2 – If you have young children, converting the spare room into a playroom is easily accomplished with a wall unit with drawers and maybe some wire baskets for toy storage. This room will keep your kids out of your hair while you do the housework, but you will know exactly where they are. Adding a few trap doors or secret compartments to the room will add a layer of mystery and your kids may never want to leave.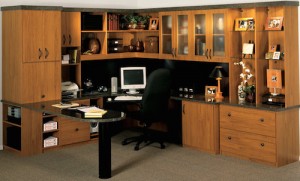 3 – Another way you could use that spare room is by turning it into a home office for those days when you really need to work from home. A good custom desk and hutch can hold all of your records and paperwork, provide a convenient place to spread out and take care of all of those bills, and an ideal space to get away from the kids for a few hours.
4 – If you're a bit of a bookworm, you might want to indulge in every literary lover's fantasy: a home library. The basics of a library – floor to ceiling bookshelves – are easy enough, but you might also want to think about putting in a reading desk or a few overstuffed chairs for the ultimate in reading comfort. You could also have a Murphy bed built into the wall for easily convertible storage for both books and guests.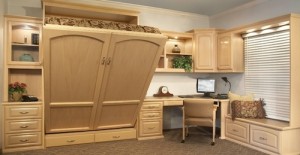 5 – Finally, an obvious choice with a spare room is to turn it into a guest bedroom. This could be accomplished with something as simple as a small twin bed with a nightstand and a dresser, or you could go all the way to a regal California King bed with a full set of furniture and a custom walk-in closet. But, why not combine a guest bedroom and a home office into the same room with the space-saving convenience of a Murphy bed? This way, you can get maximum use out of your extra space, giving yourself a place to work during the day and an easy space for that unexpected guest to crash at night.
If you're ready to turn that spare room into something useful request a free in-home design consultation by filling out the form.