3 Tricks Guaranteed to Maximize Your Closet Space
For those who are challenged by size when it comes their small closet, never fear, there are ways to utilize your available space, fill your storage needs and create the illusion of more space. A custom closet system is one of the best ways to maximize storage space and whether you have a small reach-in or a tiny walk-in closet, a closet designer can design a closet system to address your specific storage needs.
One of the ways your designer will fully make use of your space is to design a custom closet that goes as close to the ceiling as possible with as many double hanging rods, shelves, cubbies and drawers needed to hold your clothing and shoes. Even the space between the top of your system and the ceiling can be used to hold luggage and other seldom used items. Your closet designer understands the best ways to use spaces like these and they'll explain it all to you.
From a design perspective, anything that draws the eyes upward makes a space appear bigger, so in order to make the closet seem taller, paint or put wallpaper on the ceiling. Also, dark colors absorb color and can make a space feel smaller since, so use light colors in floorcoverings and when painting the ceilings or walls. When it comes to accessories or shelves, use glass or Lucite to create more of an airy look.
Don't install overhead lights since they tend to cast harsh light only in one section. Instead, use wall sconces or LED lights to draw the eye around the room and spread the light around. Not only are mirrors useful in the closet but they also create the illusion of more space, so place mirrors on the walls or use mirrored backing in your closet system.
Here are a few other tips to keep in mind for making your small closet look bigger: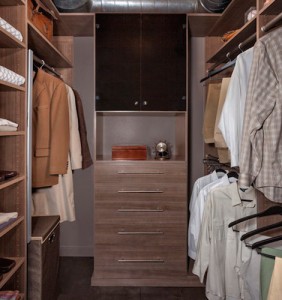 1 – Use Every Inch
Every bit of space matters when it comes to small dimensions, so leave no wall uncovered. Put slatboards on walls to hang jewelry and other accessories and don't forget about the backs of your doors! Slatboards can easily be used to cover the entire back of the door if you don't have the wall space and provide great storage for scarves, jewelry, ties and even small purses.
2 – Color Coordinate
Use matching hangers because it makes a closet look more organized. Using slim hangers will also allow you to hang more clothing. If you really like symmetry, color coordinate your clothing to create the look of structure. Any time a group of items look intentionally arranged by color, type or size, it creates a consistent, visually appealing look. If you use baskets and bins to store the miscellaneous things that make their way into our lives, make sure they are also matching or at least the same color.
3 – Keep it That Way
You put a lot into making the most out of your closet, don't lapse into bad habits of collecting clutter and disorganization. This is not a one-time effort. Like exercise and other things that are healthy, you need to consistently use your closet system for what is was intended; to be a place for you to keep all your clothing and accessories organized no matter how small the space.