3 Reasons Why Wood Grains are Perfect for You
When it comes to decorating and choosing the foundation for establishing the look of a room, nothing is as timeless and elegant as wood. Because wood comes in a variety of colors, grains and textures, it offers the most versatility in creating a plethora of styles, which is essential in home decorating. When using wood grains to create a custom closet, home office or entertainment unit, you have many choices in design, styles and finishes. From rustic naturalism to a painted finish, wood offers the most in durability and flexibility while adding natural beauty to any décor.
Here are the top-3 benefits of decorating with wood grains:
1 – High-Quality Design
More often than not, well-crafted furniture is made from wood because it is long lasting and can be finished in a variety of ways. Whether a piece of furniture is traditional or modern, wood offers elegance to any design and gives furniture an expensive look – even if the actual cost wasn't pricey. Wood grains also have subtle variances, so it gives a unique look to each design.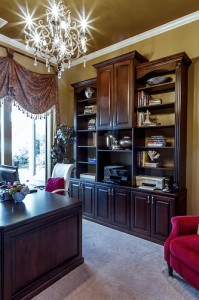 2 – Versatility
From dark to light and every tone in between, wood offers a wide color spectrum, which creates a mood or atmosphere for a room. For instance, rich, dark woods are perfect for creating custom cabinetry for an executive office or a library while a lighter wood is used for a more casual look that captures the tone of a country cottage or a peaceful zen spa.
3 – Wood is Reminiscent of Nature
People are attracted to natural elements because they offer a soothing and comforting atmosphere, so designers use plants and flowers as accent pieces in rooms . Wood has the same effect, so when you use wood grain finishes for your custom furniture, it helps usher a piece of nature into your home.
At Closet Factory, we have myriad wood-grain options for every room in your home. Feel free to browse through our various galleries and you'll see that wood grains are perfect for you.