3 Reasons Why Closet Factory Designers Lead the Way
When choosing a custom closet company, the most important element to consider is not the price; it's the designer with whom you'll be working. Closet Factory designers are the best in the custom closet business because they are not salespeople. They are trained design consultants and their primary goal is to deliver a design that meets our client's every need and exceeds their every expectation.
Creating a custom closet with a Closet Factory designer is a collaborative effort. The designer's priority is to listen to the client's needs, educate them about the products, and offer friendly and helpful advice. The result: the custom closet, home office or garage the client envisioned. Our designers also act like project managers and stay from start to finish, which ensures that the finished result is right for the client's space, style and storage needs. They are there to make sure the design works and to keep communication lines open, so the client understands the possibilities and limitations of the space. And they are trained to build value and trust with their customers to create a true partnership during the entire process.
Here are a few more great reasons proving that a Closet Factory designer is the best advisor to have when creating a custom system for your home:
1 – Top-Quality, Ongoing Training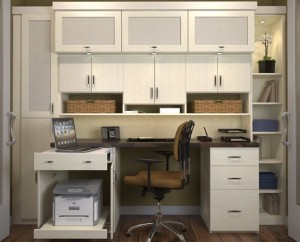 Closet Factory has a selective screening process when choosing designers. Potential designers need to have design talent, sales abilities and most importantly, people skills before they are invited for training. The training process is extensive and designers must first go through the Online Design Academy before moving onto in-house live training and on the job training. After joining the design team, they attend continuing education seminars in which the designers periodically meet to get updated product information, and participate in further interior design and sales training.
2 – Sells Value Not Price
When you meet with one of our designers, they don't just try to sell you a closet system. They will first show you a presentation so you can learn about the company, the products and the designer. This way, you can make an educated decision about whom you want to work with and what kind of custom system you want. Our designers believe in the products we offer and they strive to give the customer exactly what they want and need. Therefore, the goal of every designer is not just to make a sale, but also to create a custom closet or storage solution that satisfies each client no matter how large or small the job.
3 – Their Product is Truly Custom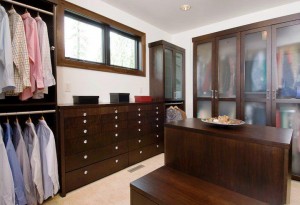 Our unofficial tagline is, "If it can be designed, we can build it." Our closet designers have the ability to offer true customization and artistry. Each Closet Factory location is a full service facility that manufactures every piece on site, specifically to each client's specifications. Additionally, they can offer many services that other companies don't like custom painting, staining and specialty pieces. And while Closet Factory's standard product line is fairly complete and vast, designers have the ability to go outside of it and find extras that will help create exactly what you want. Our designers don't just deliver custom closet expertise, but they can also offer customers the ability to make their custom closet visions a reality.