3 Key Benefits of a Custom Home Office
According to Forbes, one in five Americans work from home and the statistics are expected to rise 63% in the next five years. With the increasing numbers of self-employed entrepreneurs in addition to the benefits of no commuting and more work/life balance, it's estimated that 30 million Americans work at least once a week from a home office. Therefore, it makes sense that when it comes to creating a place to work at home, you should have a home office that is custom made just for your needs.
When you opt for pre-fabricated office furniture from retailers, you are limited in many choices including design, dimensions and features. Your needs have to fit what retailers offer instead of vice versa. But, a custom home office design can be made precisely to fit your into your space, seamlessly blending with rest of your home. Also, when comparing prices, a custom designed home office is a better investment in the long run, which is attributed to the quality of the materials. And, the craftsmanship will far exceed ready-made pieces at office supply stores.
The top-3 benefits of a custom home office are: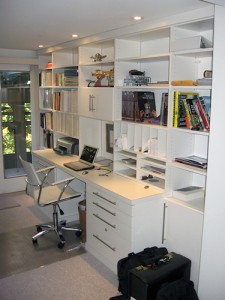 1 – The Unique Design: When you work with a custom company, a designer will listen to your needs and create a design that gives you exactly what you want. They will work with you to ensure that your home office design is a comfortable workspace, personalized for your specific work needs. With a custom built home office, you can also choose cabinetry and finishes that match your home's interior or pick something completely different to make the unit stand out in your home. Customization allows you to choose the look, style and features you want instead of settling for whatever is available on the market.
2 – It's the Perfect Fit: Whatever space you designate for your home office may not always work with store-bought furniture. If you have odd angles, ceilings or a window you simply can't move, customizing an office allows you to build around the space. A professional designer can also help you maximize a small space so that you can utilize every inch for storage and work surfaces. Organization is key to working efficiently and effectively, and a customized home office allows you to set up your personal organizational system using drawer organizers, sliding file cabinets, built in shelves and other features that are unique to your organizational needs.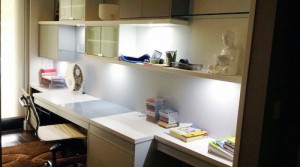 3 – It's a Place for Work: When you work from home, there are plenty of distractions. Having a home office designed just for you ensures that you have a place for work that is separate from your home life; where you can physically and mentally be at work. You also have a place just for your work papers, supplies and files without the risk of getting them mixed up with homework, kids' toys and other assorted non-work things. When you have a space dedicated solely to get the job done, you also have a place to physically leave your job when it's time to devote your attention to your family.